ABA League Australia

News Report
Q&A Time With ABA Australia CEO CJ Henderson
Author: Billy Mitchell ABA VP, 09/24/18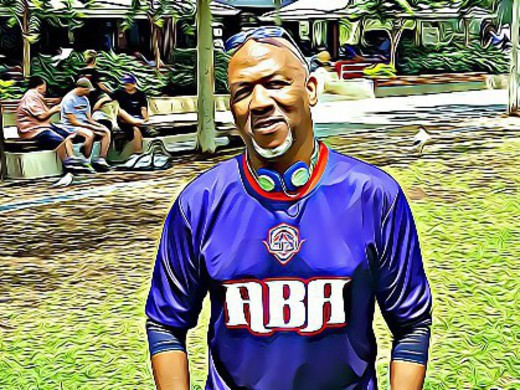 Hi I am Billy Mitchell VP ABA League Australia & Close Friend & Classmate of CJ Henderson. I have known him since 1974 and we graduated John Marshall High in OKC in 1978 – Now we are working together again and I had a few questions for him about the future of the ABA. Below are those questions and his response to them Enjoy!




Q. What is your vision for ABA League Australia?

A. Well the ABA is one of the most recognized leagues in the world behind the NBA – For better or worse the league is well known. It's true the new ABA is a bit different but the message is still the same it's about diversity & community also giving players a chance to take their game to the next level. My vision in Australia is to make it a place where we make the brand one everyone wants to be part of. We are striving to make every team look as professional as possible and help them build loyal fans. I feel there is room here for us to become the largest league here as well – the NBL the top professional league here only has 8 teams so there are lots of players that have not been able to play professional because there are not enough slots in the NBL, so we are perfectly positioned for growth.
Q. Any Particular Goals That You Want To Achieve Besides Just Getting Teams In The League?

A. I love basketball and as you know I have been playing it all my life, when we were growing up we watched the ABA before we paid attention to the NBA. I still remember watching Dr J. in 1976 win the Slam Dunk Contest & the guys competing OMG – Gervin – Gilmore – 6ft 4 David Thompson – Larry Kennon – Dr J - & all for $1,200 worth of prizes Awesome.. Dr J. is the only player in history to win an ABA and NBA Championship I want our league to find the next player to do that awesome achievement. I know there is only 1 Doc – I mean I want a player from our league to win ABA championship & then get drafted and win NBA. I know it's a long shot but there has to be a player out there that would like to make history and I hope we find him!

Q. What do you like most about being in the ABA?

A. Well first of all living in Australia the past 28 years and one night I was working late and turned on the TV and saw an interview with Joe Newman one of the co-founders of the league & as far as I knew the league was gone but then I see this guy talking about setting up teams and my jaw dropped.
I got his information and then I was thinking how do I get a team set up there and I am living here so I had my cousin and a friend lined up and then I finally just reached out to Joe. My cousin & friend lost interest so I was emailing Joe back and forth for about 2 years and watching what the league was doing, before Joe came up with an idea that just blew my mind & I still thank him for to this day.

He asked if I would be interested in being the CEO of the ABA in Australia and I had to slap myself – I grew up watching the league and now I am part of it – this was like a childhood dream come true. Now I am no idiot I know the league is not the same but to have one of the original Co-founders reach out and have faith in my abilities after many talks I got what I call the dream job. This is all I do and I know it will not be easy, but this means everything in the world to me – Many people say if they could do what they love and get paid they would be happy for life well I am one of those people and I feel blessed. I want to give this league my best so everything I do here has to be the best, it's important that we build a good reputation up for this league here in Australia me and my team all feel the same.

Q. What type of team owners are you reaching out to?

A. Well I really want team owners that have a love for the game just like me like really love it. Since putting the word out I have been approached by some former NBA Players – Sedale Threatt & Son - Malcolm Leak – Josh Powel & Harlem Globetrotter Tracy Wilson just to name a few.
The list of business owners that love the game and want to invest is growing as well. We are getting lots of enquiries from a wide range of people here and overseas & I love it because it helps spread the word. It's just starting to get really exciting.
We keep the cost of getting a team license very reasonable $3,500 AUD and we make it a 1 off so that teams can concentrate on earning revenue that will go back into their business, we are not top heavy like some leagues where then money rolls all up hill. I have to get out there and create daily just like the team owners.


Q. This will be my last question – How is it all going will you get enough for a season in 2018/2019 & have you been able to help any overseas players that may want to come to Australia and play?
A. Well we look to be set to have a short season this year, we are partnering with one of the local gyms here in Sydney and putting together a good media team. We are also in talks with a local radio & television network that seem to be excited just like us to see what we produce.
We have had a small camp in the USA and we got 1 really talented 6ft 4 guard Rodney Teal that will be coming to Australia later in the year. Rodney is over the moon and so are we that we have been able to do these things in such a short time. We now have a website for where up & coming talent can register their profiles and it's building up www.gotskillz.club – I am happy to see we have people looking at what we are doing its awesome – Our Import Player Program should help bring lots of exciting talent to the game – the league & Fans!

One future import player Todd Johnson – Guard – Played in the ABA All Star weekend and won an event. He got picked up from being on our website, he was a division 1 NCAA player so we know we are heading in the right direction. (You Can see Todd www.gotskillz.club )

Ok I hope you enjoyed this interview and continue to watch as CJ and our team grow the league for Australia. This is an great league with lots of promise so hold on because there is more to come.

Until next time Billy Mitchell .